Moving & Packing Supplies
Save time and money with storage supplies from Storage King USA
One of the best things you can do to make your moving and storage experience as easy as possible is to be prepared. Whether you're moving across town or across country, a big part of planning for your move is having enough packing supplies at the ready. From boxes and tape to dish kits and moving blankets, Storage King USA has what you need to simplify the moving process and save time and money at the same time.
Moving and Packing Supplies Sold On-Site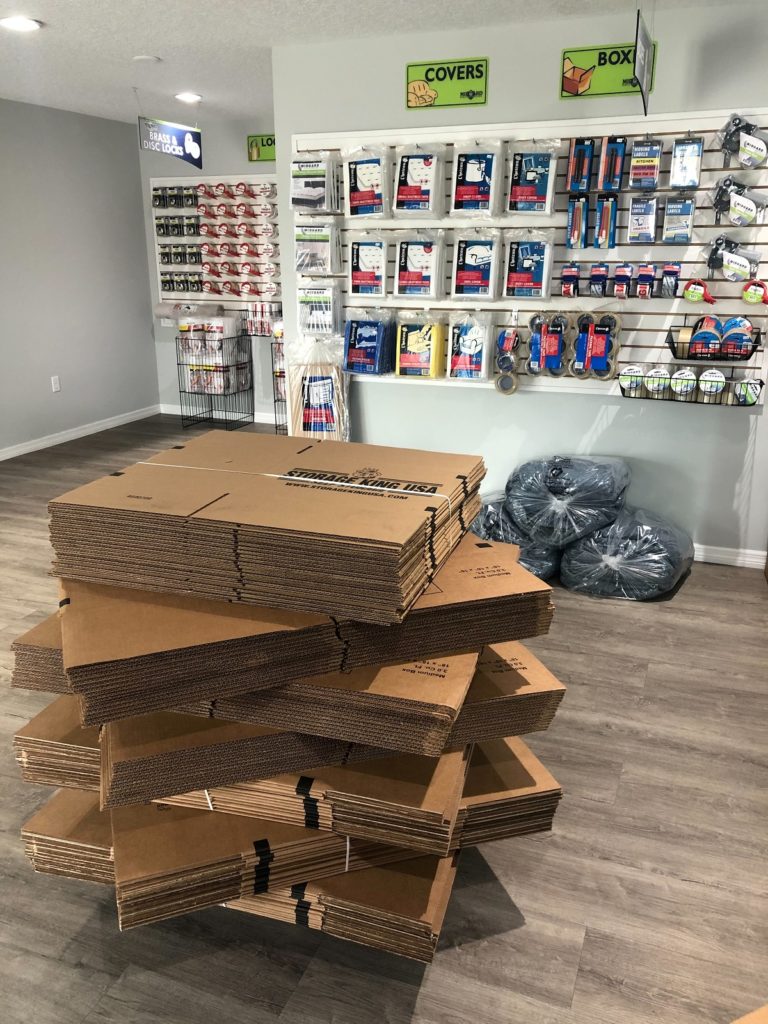 Moving your belongings safely into storage is about more than just buying a bunch of boxes. Properly packaging everything up for your move takes planning, padding, and a lot of tape. Thankfully, whether you're storing boxes of books, a spare mattress or bed set, antique furniture, or tchotchkes, Storage King USA sells everything you need to pack up your life in one place—our stores! Many locations offer the following items for sale:
Boxes (all sizes)
Bubble and stretch wrap
Mattress covers
Econo pad blankets and moving blankets
Packing tape
Dish kits and glass kits
Newsprint
Box cutters
Moving Boxes
Finding the right moving box for your belongings can make the difference between safe packing and damaged goods. At Storage King, we offer all standard sizes of moving boxes for your convenience.
Small Moving Boxes
Small boxes are used for fragile items or items that are heavy and, well, small. They're great for dishes, books, glassware, small photographs, or other items. Their limited size keeps you from overpacking them.
Medium Moving Boxes
Medium boxes are built for larger—but lighter—items, such as toys, picture frames, kitchen cookware, and other decorations.
Large Moving Boxes
When the time comes to pack up larger items that may not fit in a medium box due to their shape, a large box is the way to go. Lamp shades, speakers, computers, or monitors are good candidates for these boxes. Just don't forget to provide proper padding!
Extra Large Moving Boxes
Need to pack pillows, stuffed animals, blankets, towels, and other bulky soft items? Grab a few extra large boxes. Anything that's bulky but lightweight can get packed into these boxes. Use a vacuum-sealed bag to fit even more inside them.
Wardrobe Boxes
Wardrobe boxes make moving clothes easy! Just hang them on the included bar and transport them directly from closet to closet. It's efficient and convenient.
File Boxes
Perfect for businesses, file boxes let you pack important documents into one easily organized box. Label each side for permanent storage or to stay organized as you move.
Packing Supplies
In addition to boxes, take advantage of our in-stock packing supplies. Whether you need bubble wrap or dish packs to preserve and protect your fragile items, a mattress cover, or packing tape and stretch wrap to keep everything contained, we've got it in our stores!
Locks for Your Storage Unit
When you rent your storage unit from Storage King, you'll need a lock to keep your items right where you leave them. Instead of buying a lock elsewhere, buy one from us! Our disc and cylinder locks work with any storage unit you can rent at one of our facilities. Ensure you have the right kind of lock and avoid repeat trips to the store.
Everything You Need for Moving and Storage
From cross-town to cross-country moves and temporary or permanent storage needs, Storage King has everything you need to pack and prepare for your next adventure. To learn more about storage, moving, and packing, check out our blog or stop by one of our convenient locations to pick up your moving and packing supplies today.