Moving Services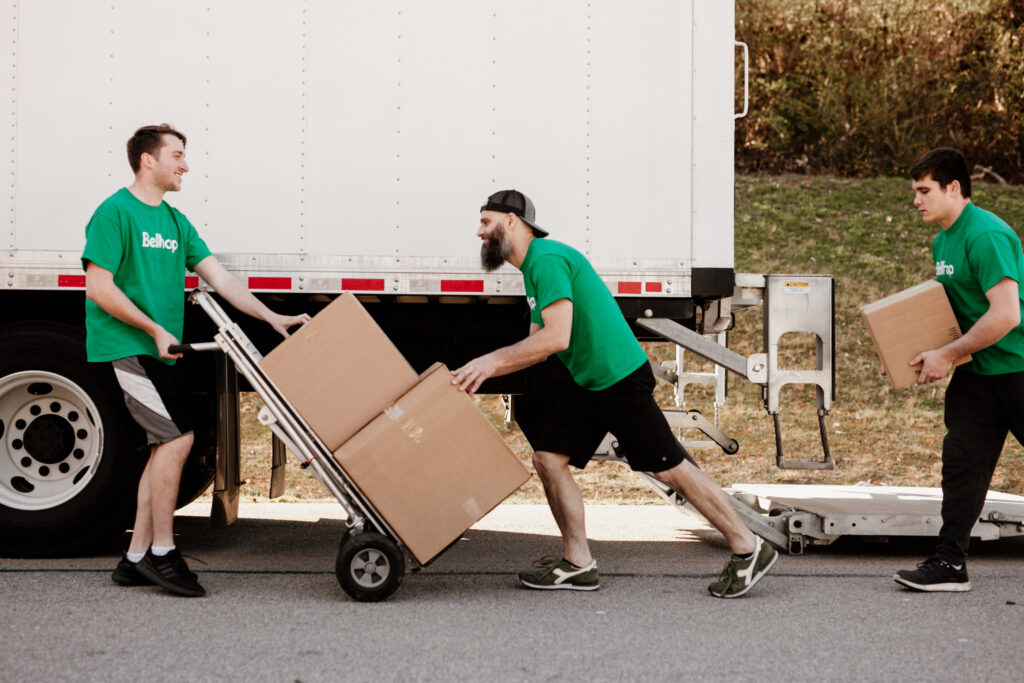 Self storage provides homeowners and businesses alike with a place to house their extra items. However, finding a place to store your belongings is only half the battle—figuring out how to move them is also important. That's why Storage King USA is here to give you more options than ever. In addition to keeping your closets clear and attics from overflowing, we can help streamline your move or relocation from start to finish. By partnering with Bellhop, we make storing items during a move or grabbing them out once you're settled one step easier.
What Is Bellhop?
At Storage King USA, our support goes beyond central self storage thanks to our affordable and dependable partners in the moving industry. Bellhop is a reliable and accessible moving and relocation support company that gives you the option of using friendly and experienced staff to streamline your move. As the modern alternative to traditional moving companies, their dependable trucks and years of valuable experience can ensure businesses and homeowners a move that will be free of damages and harmful snags. And with their tech-enabled logistics platform, you can easily coordinate world-class moving services everywhere you can find a Storage King USA facility near you.
Partnered Moves
Storage King USA has teamed up with our partners at Bellhop Moving to make using our self storage units a breeze. Whether you're looking at commercial storage units for your office relocation process or a budget storage option to keep those sensitive items out of your attic, Storage King USA and Bellhop can make the process easy.
Offering local full service moves, labor only moves, and long distance moves, Bellhop has got you covered. They can take specific loads right to your new self storage unit during a move to save you the trip, or grab the items from your storage unit for you when you're ready for them.
Labor Only Moving: Have your own truck? Increase the speed and efficiency of your move by reserving a trusted team to load, unload, or rearrange your belongings.
Local Moving: Get matched with a professional driver and a team of movers who've been hand selected for their skills, resourcefulness, and talent for taking care of people.
Long Distance Moving: Receive a guaranteed quote with precise arrival times. Your dedicated move manager will navigate all the ins-and-outs of your long-distance move.
Booking Your Move With Bellhop
Making a moving reservation
Tell Bellhop what you need—either online or over the phone—and in fewer than 15 minutes we can match you with the most-qualified team for your move. You can book your service in minutes, without an in-home consultation, because Bellhop's technology uses the data from hundreds of thousands of moves to build a tailor-made plan based on your neighborhood, the size of your home, and the items that need to be moved.
Bellhop and Storage King USA's many operating locations across the country makes central self storage a convenient and affordable option for moves of all kinds.
Receive ongoing support
From the moment you make your reservation to the moment your movers say goodbye, Bellhop wants you to feel right at home. To help with this, they provide a variety of resources, including a customer dashboard, where you can review and manage every part of your service.
Need any other reason besides incredible service and unmatched convenience to use our Storage King USA moving partners? All Storage King customers receive 10% off their move with Bellhop!
Move Into Your Storage Unit Today
With the power of Bellhop, it's never been easier to move your belongings into a storage unit. Storage King USA provides affordable, clean storage units across the country in a wide variety of sizes. Rent a storage unit and get started today!
---