RV and Boat Storage in Pensacola, FL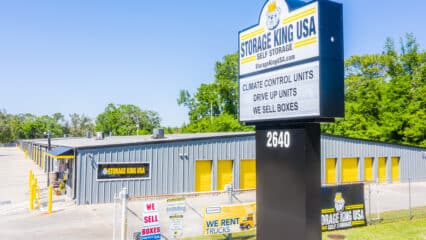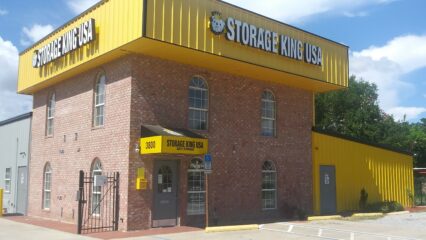 If you are a boat or RV owner living in Pensacola, FL, store your vehicles with Storage King USA on Mobile Highway! We offer convenient parking spaces for your cars, boats, RVs, trailers, and more. We proudly serve the following Pensacola neighborhoods and beyond:
West Highlands
Welles Brownsville
Greenhut Court
Oakdale
Jackson Heights
And more!
Visit Storage King USA in Pensacola, FL, for all your boat and RV storage needs!
Pensacola, FL Boat and RV Storage Features
We offer a wide variety of vehicle storage features at our Pensacola storage facility to make your storage experience optimal, some of which include:
Fully-fenced facility
Month-to-month leases
Online account management
Gated access
And more!
Discover how Storage King USA in Pensacola is the right fit for you and rent or reserve your vehicle storage online today!
Secure Boat and RV Storage in Pensacola
At Storage King USA, we pride ourselves on our security measures. We know how important your belongings are to you, and we promise to provide the features you need to maintain peace of mind.
Our Pensacola storage facility is fully fenced and well-lit with recorded video surveillance and individual gate access codes. When you rent a storage unit with Storage King USA, you can trust that your belongings will be stored in our secure storage units.
Reserve Your Pensacola Boat or RV Storage Unit at Otter Self Storage Today
Boats and RVs are some of the most rewarding investments you can make, allowing you to embark on adventures and explore this wonderful world. However, they can also take up a lot of space. With vehicle storage at Storage King USA in Pensacola, you can free up valuable space in your garage or shed.
Give your boat or RV the home it deserves and rent or reserve your vehicle storage unit in Pensacola.
FAQ About Storage Units in Pensacola, FL
What are your access hours in Pensacola, FL?
Our access hours are from 6:00 AM to 9:00 PM Monday through Sunday. If you run into any questions or problems with your storage unit, we have office hours from 9:30 AM to 6:00 PM Monday through Friday and 9:00 AM to 3:00 PM on Saturdays!
Where is your vehicle storage in Pensacola located?
Storage King USA offers boat and RV storage at two convenient locations in Pensacola, FL:
Located outside of Pensacola, FL? Check out our full list of locations and find a storage facility near you!