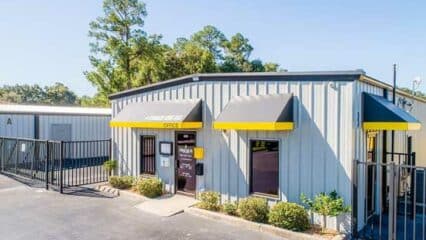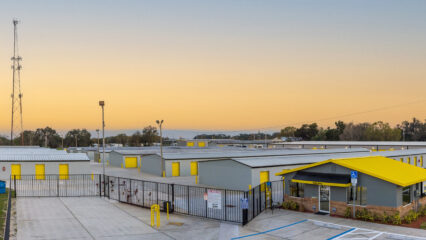 Self Storage Units in Lakeland, FL
With a thriving scene of arts and culture, beautiful weather, and a thrilling downtown, Lakeland, FL, has something for everyone to enjoy. Explore the stunning scenery at the Hollis Garden, complete with peaceful fountains, a koi pond, and unique architectural designs, then savor some delicious cuisine at the local restaurants. Get outside and enjoy the Florida sunshine at one of the many lakes before catching a show at the Lakeland Community Theater. With over 100,000 residents, Lakeland is home to a variety of neighborhoods, such as South Lake Morton Historic District, Cleveland Heights, and Dixieland for you to find your perfect corner to call your own.
To enjoy it most, you need the space to do so. Here at Storage King USA, we are happy to get you set up with a storage unit in Lakeland, FL, that will hold all the clutter you might have on your hands. Whether it's climate-controlled storage, drive-up access, or vehicle storage you're looking for, a Storage King USA storage facility is just the place.
We have many storage facilities near Lakeland for you to choose from, including:
Lakeland, FL, Self Storage Features
When you have so many excellent features available like you do when you rent Lakeland storage from Storage King USA, self storage is as easy as can be. We have amenities for security and convenience, starting with fully fenced facilities, gated access, and keypad entry. Our facilities are kept under 24/7 recorded video surveillance as well, and our storage units in Lakeland can be accessed during extended hours.
Other features of self storage in Lakeland, FL, include:
Drive-up access
Hand carts available
Month-to-month rental agreements
Climate-controlled storage
Car, boat, and RV storage
And more
Car, Boat, and RV Storage in Lakeland, FL
Life in Lakeland, FL, is surrounded by beauty. If you love lakeside views, open water, and natural scenery all bathed in sunlight, Lakeland can be a visual paradise for you. There's no better way to enjoy it all than by being immersed in it, whether you're camping, boating, fishing, or a little bit of everything.
Having your own boat or RV takes the experience to the next level. Make your outdoor adventures an all-around enjoyable time by finishing them with convenient RV storage and boat storage in Lakeland, FL, at Storage King USA, saving you the hassle of working around your boat or RV in your driveway.
Conveniently Located Storage Units in Lakeland
There are several Storage King USA storage facilities near Lakeland for you to choose from, giving you plenty of places to find a storage unit near you. Keeping your belongings stored close to your home or business allows you to swing by with ease, whether you're just making a quick trip out or are dropping in on a small detour from your regular commute. With locations near Highway 92, I-4, and other major routes, accessing your storage unit is a breeze.
Reserve Your Lakeland Storage Unit at Storage King USA Today
With a Lakeland storage unit from Storage King USA, you can maximize the space you have in your home or business. To start clearing the clutter, use our storage unit size guide to determine the right amount of storage space for you to rent, then read through our list of storage tips to pick up some professional tips and tricks. Then locate a Storage King USA facility to rent or reserve a storage unit today!
FAQ About Storage Units in Lakeland, FL
What size storage units are available in Lakeland, FL?
Different storage demands require different amounts of square footage. Finding the right fit is easy when you rent from Storage King USA thanks to our wide variety of available unit sizes. Availability varies by location, but at most Lakeland, FL, Storage King USA storage centers, you can find the following sizes:
5×5 storage units
5×10 storage units
10×10 storage units
10×15 storage units
10×20 storage units
10×25 storage units
10×30 storage units
And many more
Do you offer climate-controlled storage in Lakeland, FL?
Yes, we do! Several of our storage facilities feature climate-controlled storage units in Lakeland. These are indoor storage units that are heated and cooled throughout the year to maintain a more stable temperature within the unit, especially ideal when storing any sensitive belongings. If you're putting wooden furniture, electronics, documents, leather goods, or other delicate items into storage, consider renting Lakeland climate-controlled storage.
Where are your storage units in Lakeland, FL, located?
You can find self storage near you with ease when you look for a Storage King USA facility in Lakeland, FL. We have many facilities in and around Lakeland, giving you ample options for finding a storage unit for your belongings. Check out any of the following locations: