Storage Facilities in Fort Myers, FL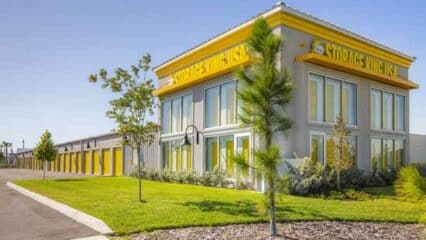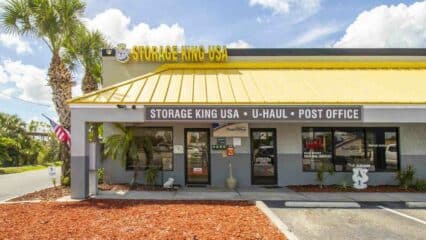 Self Storage for Rent in Fort Myers, FL
From the smallest trinkets to the largest appliances, you can find the storage space you have been looking for at Storage King USA in Fort Myers, FL. Our wide selection of unit sizes can fit all of your storage needs.
Students attending Florida Gulf Coast University can keep their rooms clutter-free with convenient storage just down the street from campus. Vehicle owners can find a secure place to store their cars, boats, or RVs near multiple state parks and campgrounds. No matter what you are looking to store, we have the space for you.
Self Storage Features in Fort Myers, FL
It is our goal to be your one-stop shop for all things storage. To make sure you have all the tools for the job, we maintain a wide range of features and amenities at our facilities. We lead the industry in top-notch security in our well-lit and fully fenced facilities, and each unit comes equipped with an individual alarm system for unparalleled protection.
Other storage features at our Fort Myers, FL, facilities include:
24-hour access available
Climate-controlled units
Insurance available
Military discounts
Online bill pay
Having trouble deciding what size unit is best? Try our self storage size guide, a handy tool that lets you visualize the full capacity of your storage unit. Using 3D models, you can see exactly how much room you will have at your disposal, making unit selection quick and easy.
Storage for Students at Florida Gulf Coast University
Storage space is hard to come by when you are living with roommates in a dorm or apartment. When you rent a self storage unit from Storage King USA, you give yourself the space you need only minutes away from campus.
Our self storage facility on Alico Road can accommodate items of all sizes. Whether you have extra furniture that will not fit inside your home or just need a place to keep your belongings while moving between locations over the summer, you can find the room to store it all here. Keep your home free from clutter while you focus on your studies with a unit from Storage King USA, and don't forget to check for our special discounts for students.
Drive-Up Storage Unit Access
When it comes time to move into your unit, the last thing you want to do is haul large and bulky boxes and appliances across a parking lot. Storage King USA takes the hassle out of moving with drive-up access at all our Fort Myers locations. Just drive through our facility directly to your self storage unit and start unloading. It's as easy as that!
Vehicle Storage in Fort Myers, FL
If you have multiple vehicles, you may find yourself with a cluttered garage or driveway. Take back the space occupied by your car, boat, or RV with vehicle storage from Storage King USA. Our large outdoor parking spaces can accommodate all sizes of vehicles, and our proximity to Rocky Bay, Caloosahatchee River, and the surrounding nature preserves makes our facilities an excellent choice for vehicle storage while they are not in use.
Rent Your Self Storage Unit in Fort Myers, FL, Today From Storage King USA
No matter what size unit you are looking for, we have the features and options you've been looking for. Come to Storage King USA on Alico Road and Highway 80 to find the one that fits your needs and budget. Rent yours today!
Frequently Asked Questions (FAQ)
Where can I find storage facilities in Fort Myers, FL?
Storage King USA is a proud member of the Fort Myers community. Our Fort Myers storage facilities are located on Alico Road and Highway 80. With locations on the northern and southern ends of the city, we offer our services to several neighborhoods in town and the surrounding area, including:
Buckingham
Estero
Fort Myers Shores
Gateway
Neighborhoods
San Carlos Park
Suncoast Estates
Tice
And beyond!
Do you offer climate-controlled storage in Fort Myers, FL?
Yes, we do! The hot, humid Florida summers can cause considerable damage to unprotected items. Wooden furniture, plastics, electronics, and leather products are all susceptible to deterioration in fluctuating temperatures. Give them the protection they deserve by opting for climate control in your self storage unit.