How to Store and Pack Christmas Decorations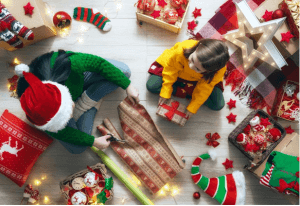 The holidays are upon us, so it's time to locate your Christmas storage boxes and start decorating your home and tree in Kissimmee, FL. If you're dealing with knotted lights and missing ornaments, it can become a real nightmare when you're trying to decorate. At Storage King USA, we know storage, so here's quick storage guide to help you pack and store your decorations so that it'll be much easier on you the next holiday season.
How to Pack Holiday Decorations
If you pack your decorations the right way, you won't have a tangled mess when you take everything out of the boxes next year. Packing everything the right way will put you in a jolly mood once it's time to decorate next Christmas.
Roll up your lights and garland, using ties to keep them from bunching and tangling.
Put your decorations in clear plastic containers. You'll see exactly what's inside, making it easy to find what you're looking for when decorating.
Use specialized decoration storage boxes with dividers to keep your ornaments and other decorations organized.
How to Store Holiday Decorations
With your decorations packed away nicely, it's time to store them properly. Tossing the boxes in the attic isn't the best solution. We have a few ideas to steer you in the right direction.
Put them in a cool, dry place such as an interior closet in your home.
Stack them neatly in your backyard shed with plenty of ventilation.
Invest in a climate-controlled storage unit to save on space at home.
Your Christmas Storage Guide From Storage King USA
Nothing beats having your Christmas decorations organized neatly when it's time to decorate your Kissimmee, FL, home. Tangled lights and garland can slow your progress and take the joy out of decorating. When it's time to pack and store your holiday decorations, follow our guide for the best results. If you don't have the space to store your decorations, our storage facility can help. We'll keep your decorations stored and protected until you need them again next Christmas.
More From Storage King USA