Benefits of Self Storage for Students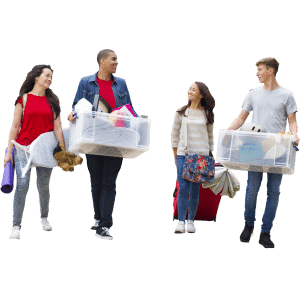 Do you need to move overseas for a semester or across the country to attend school? Do you need to clear out your dorm for the break and keep valuables safe? Student storage issues can be solved by renting storage space at Storage King USA. Providing students with clean, secure and affordable storage solutions is just one of Storage King USA's specialty areas. We are experienced in serving the needs of college students, recent graduates, and young professionals and have helped scores of young adults with short-term storage needs between semesters, over the summer, and between breaks by providing truck rental and student storage services.The life of a college student is certainly hectic and can seem like you're always moving since you're never really in one place too long.It's hard to keep moving your things between home and school, and from dorm to apartment. By finding a storage facility that is near your campus, you'll be able to store lots of your favorite belongings and keep them within reach, without cluttering up your limited living space.
Keep Items Safe
Keep your valuables safe and away from common areas! Only you will have a key to your personal storage unit. No one else has access. With Storage King USA's 24/7 surveillance and high tech entry system, your belongings are safe with us.
No Long Term Contracts
We understand the lifestyle of a college student, moving from dorm to apartment, transferring schools, long breaks, a semester spent overseas and realize long term contracts are not a reasonable option. That's why we offer month-to-month leases, which means no contracts and no commitment. Additionally unlike many other self storage facilities, we do not charge a security deposit.
Open 7 Days a Week
We know you're busy and understand the demanding schedule of students. Most Storage King USA facilities are open 7 days a week for your convenience.
Only Pay for the Space You Need
Storage King USA has a wide range of storage unit options. From 5×5 lockers to 10 x 25 foot units, we're sure to have a storage unit to fit your student storage needs. Check out our website, to see which size is right for you. Make sure to use our convenient storage facility calculator so you can be sure you're getting the perfect sized unit. We also offer locks,boxes,tape and other merchandise to make storing in our facilities a breeze.
Need Help?
Don't have a car? No worries, call us to inquire about our truck rental services. Storage King USA is an authorized dealer of Uhaul,Penske, and Budget moving trucks. Has moving day arrived and all your friends who promised to help have mysteriously disappeared?Don't fret most Storage King USA facilities have easy drive up access, and our interior storage come with oversize elevators that make storing bulky items stress and hassle free. We're here to help! Visit us today at storageking.live-pinnacle.com and pick out your unit. But hurry space is limited! – Learn more at: https://www.storagekingusa.com/military-storage-student-storage/
More From Storage King USA