Socially Distant Activities in Phoenix, AZ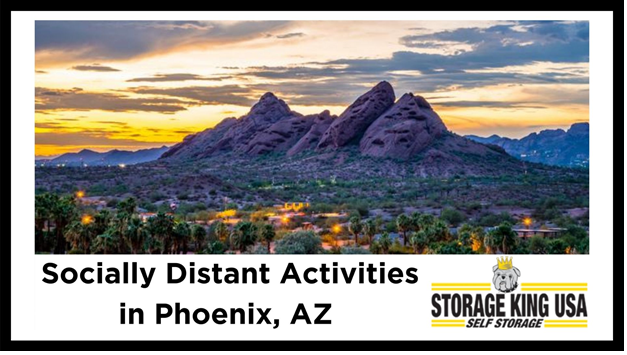 During these uncertain times, many Phoenix residents are staying home away from the activities they love. Whether it's hitting the gym or enjoying a night out on Roosevelt Row, many of the things the people of Phoenix enjoy doing aren't currently safe.
While staying socially distant and healthy during the COVID-19 pandemic is crucial, it's also important to take care of your emotional, physical, and mental wellness. Enjoy all the fun that Phoenix has to offer while staying safe with this activities guide from Storage King USA.
With new hobbies, however, comes a variety of gear and equipment. From hiking boots to kitchen appliances, keep your home clutter-free and give your new hobbies' accessories their own space with self storage. Storage King USA offers two convenient Phoenix area storage facilities for all your hobby, home, and business hik
Enjoy the Outdoors
Lately, it may seem like the only way to keep yourself entertained is to stay inside to watch a movie or bake bread. There is still a place, however, where you can have fun outside of your home while keeping yourself and those around you safe: the outdoors! Many restaurants, gyms, and museums may be closed, but you can still safely enjoy the wonders of nature with hiking, camping, and picnics.
Hike the Local Trails
For some fresh air and socially distant exercise, take a hike! Arizona offers a wide variety of hiking trails with scenic views near Phoenix. If you've already been to some of the popular trails, such as Camelback Mountain and Tom Thumb's Trail, try something new with some lesser-known spots. Some unique places to safely explore in or around Phoenix include:
Brown's Ranch Trail System: A moderate 4-mile trail lined with beautiful wildflowers.
Sonoran Preserve: Offers a variety of trails through three trailheads, including Apache Wash Trailhead, Desert Hills Trailhead, and Desert Vista Trailhead.
Butler's Pass Trail: An easy 1.2-mile hike, perfect for kids and dogs.
If your hiking gear is taking up space in your home during quarantine, give them a home away from home with self storage. Visit one of Storage King USA's convenient Phoenix locations to find a storage unit that fits your needs. Whether you need extra closet space for your hiking clothes and boots or a unit large enough to hold all your camping gear, you can find the unit that's perfect for you at Storage King USA.
Take a Virtual Tour
If you're still hesitant about going outside but still want to enjoy the sights of Phoenix, check out a virtual tour. If you need a moment of peace, try watching a Moment of Zen from Visit Phoenix. These 16-seconds-long videos can give you a moment to destress without having to leave the comfort of your home.
While the Japanese Friendship Garden of Phoenix may be open for the summer, you can still virtually enjoy its beautiful sights and sounds. Visit the Japanese Friendship Garden's Facebook or Instagram for photos and live videos with one of their curators.
If you're more interested in animals than flowers, check out Bearizona's virtual experiences. While this 160-acre wildlife park is currently open, Bearizona has added a variety of fun and educational videos for patrons to enjoy on their Facebook page.
Plan a Picnic
With Phoenix restaurants still closed or limiting their capacities, there's no time like the present to enjoy a socially distant picnic. From Encanto Park to Desert Horizon Park, you'll find plenty of perfect picnicking places in Phoenix.
During these unusual times, many Phoenix restaurants are helping you still enjoy the dishes you love by providing the recipes! Enjoy a restaurant-worthy picnic with recipes from the following restaurants from Phoenix and the surrounding areas:
Macayo's Mexican Restaurants: Learn how to make their delicious cheese crisp and more!
Mountain Shadows: For a fun brunch in the park, check out Mountain Shadows' recipe for oven-baked multigrain pancakes.
Talavera: For lighter, plant-based dishes, check out Talavera's recipes.
If you need more elbow room in your kitchen while you cook, a self storage unit can also be a great tool. From unused kitchen appliances to the side table you keep stubbing your toe on, you can give yourself extra space in your kitchen by putting your belongings in self storage. Storage King USA makes renting a storage unit affordable for any need with month-by-month leasing and web-only discounts.
Discover Socially Distant Experiences In and Around Phoenix
If the outdoors aren't your cup of tea, there are other ways to enjoy the excitement of Phoenix. As COVID-19 regulations evolve, more and more events and businesses are slowly reopening to provide Phoenix residents with entertainment.
Whether you're comfortable in public areas or prefer to keep a healthy social distance at all times, stay safe and entertained with these fun activities and experiences!
Go to the Drive-In for a Socially Distant Movie
Many theaters may still be closed, but you can still experience the fun of going to the movies and enjoy a trip to the drive-in! Hop in your car or truck and head to a drive-in theater near you to catch a film from the comfort of your own vehicle.
While you can always count on West Wind Glendale 9 Drive-In for a nearby movie night, there are other great drive-in theaters worth the trip in the areas around Phoenix! For a safe, socially distant night in the "outdoors," check out the following drive-ins:
Fairmont Scottsdale Princess: Enjoy a fireworks intermission and family-favorite films at this pop-up drive-in outside the Fairmont Scottsdale Princess.
The Drive-In at Schnepf Farms: From romantic comedies and classics to action and animated movies, there's something for everyone to enjoy at this unique drive-in!
Go For a Drive
Arizona is home to a wide variety of scenic drives that are perfect for a relaxed, socially distant experience. Hopping onto the open road for a sunset cruise is one of the easiest and most affordable ways to enjoy the beautiful scenery that the Grand Canyon State has to offer.
From mountaintop views to the sights and sounds of the desert, you can discover breathtaking drives without venturing too far outside of Phoenix. Enjoy these beautiful sights from the comfort of your vehicle:
Take an RV Road Trip
If a scenic drive isn't adventurous enough for you, explore the beauty that the roads of Arizona have to offer with an RV road trip! Even if you don't own an RV, you can find various sizes and rates that fit your adventure's budget. Whether you choose a small trailer or camper or a full-size motorhome, RVs offer a unique and safe way to experience Arizona.
From state parks to national monuments and parks, the possibilities are endless for your RV road trip. Some popular and exciting RV road trip routes include:
Grand Canyon National Park: The South Rim of the Grand Canyon is open throughout the year, which makes it perfect for an RV adventure.
Petrified Forest National Park: While overnight camping is temporarily closed, this national park is worth the 4-hour road trip with its incredible views and scientific wonders.
Kartchner Caverns State Park: From cave tours to hikes at sunset, Kartchner Caverns State Park offers unique experiences for everyone.
When your road trip comes to an end, don't let your RV, trailer, or camper take up valuable space in your driveway. Storage King USA offers convenient, affordable parking spaces for all your RV and vehicle storage needs. Whether you need short-term storage or a place to keep your RV for the winter, you can find the parking space that's right for you with Storage King USA.
Reserve Your Unit with Storage King USA Today
No matter what activities you're interested in, you may find yourself in need of extra storage space during these unusual times. Whether hiking and camping gear are crowding your closet or your lawn chairs and coolers are cluttering your garage, self storage from Storage King USA can help you take back your space.
Take your first step toward staying active and keeping your home uncluttered by your new hobbies. If you're not sure how much storage you need, check out our helpful storage calculator. Rent or reserve your storage unit at our facilities on Encanto Boulevard or Indian School Road today.
More From Storage King USA