DIY Backyard Renovation Ideas
Creating a backyard renovation on a budget can be tricky. Here's how much you can expect to spend and where you can find storage along the way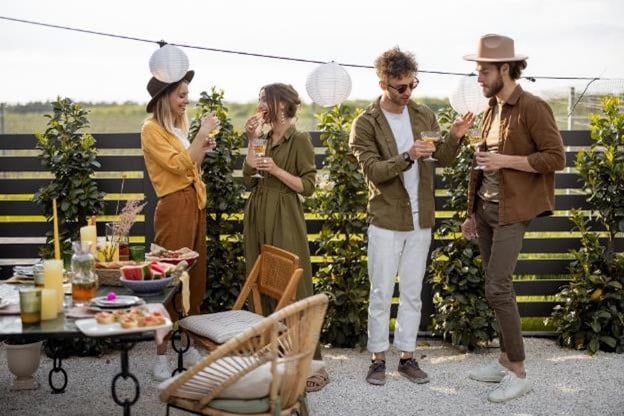 Whether you're hosting or just relaxing in nature, there's nothing quite like the perfect backyard getaway.
That said, having the perfect backyard is easier said than done. Landscaping can take time, energy, or specific skills, while lawn furniture can cost an arm and a leg. Plus, with changing styles and seasons, maintenance can be a huge project.
Thankfully, there are many easy and affordable ways to renovate your backyard into a dream summer getaway. With our expert tips and tricks, you'll be able to make the most of your backyard this summer.
Backyard Renovation on a Budget
Wherever you're at with your backyard, there's always more to work with than what meets the eye. A simple refresh is often one of the easiest ways to bring a little life back to your backyard.
Maybe it's re-staining a deck, power washing a patio, or just pulling some weeds—whatever it is, it's always helpful to start with your best step forward. Then, get ready to bring it to the next level.
How Can I Make My Backyard More Modern?
Exposed to the elements or passing trends, a change in lighting can quickly brighten a space to a more modern look.
For small backyards, look for overhead lighting, like string lights, which will make a space appear more open. For something more subtle, small post lamps can be purchased in packs and sprinkled throughout the yard. While more harsh light isn't generally preferred, mounted fixtures can add a level of security to the night.
Just like outdoor lighting, outdoor furniture can quickly fade both in color and style. Unfortunately, investing in a whole new furniture set can add up. To save some money, a fresh coat of paint or new cushions can bring make a world of difference.
There are also small pieces that can modernize or transform a space—like an outdoor rug, hammock, or umbrella. A little bit of creativity goes a long way.
Set Up a Campfire
Campfires are an essential part of the summertime—and one that you can easily incorporate into your backyard. You can make a fire pit by stacking bricks in a circle, then filling the bottom of the pit with sand. And, if you'd like to be able to move your fire pit around, metal options can be purchased for as little as $40.
With some roasting sticks and marshmallows, you'll have the perfect backyard spot for friends and family in no time.
Add Some Greenery
Plants are both a fun and trendy way to bring new energy to decorating. If you already have landscaping or gardening room, you can add perennial plants that will come back year after year or annual additions that can be mixed up as your plant preferences change.
You can also add visual interest throughout your backyard with potted plants. Just grab a pot with a water drainage hole and fill it with any plant of your choosing. You'll only need to make sure you're pairing the sunlight exposure of the pot's location and the needs of the plant.
Before you know it, you'll have the perfect jungle escape.
Add or Change a Stone Pathway
Paths are an easy way to immediately change the look and feel of your backyard. If you have a garden or separate sitting area, you can add a small pathway that makes the area feel like an escape.
Rather than paving the route, you can use quarter-inch crushed rock or large stepping stones—both of which can be purchased at most hardware stores. Just mark out the desired route, and fill it to your desired appearance.
Build a Concrete Patio
While it's a more intensive process than some of these other DIYs, adding a concrete patio is still a very attainable summer project.
With a bit of planning and research, you can pour concrete for a patio of your desired size and color with ease. Plus, concrete is a relatively cheap building material and all the necessary supplies can be purchased at your local hardware store. For a little something extra, you can even lay slate tiles or paint over the concrete for a look that suits your style.
And, if you prefer to have a professional come in, concrete pours of this size can be done quickly and affordably.
Whatever you end up choosing, adding a patio can be one of the most impactful changes, elevating your backyard up to a backyard living space.
There's More in Store this Summer
At the end of the summer, don't let cold and wet weather ruin all your hard work and investments. Ensure your outdoor furniture is stored safely and securely from the elements with Storage King USA. Whether you're just looking for seasonal storage or something more long-term, Storage King USA accommodates your storage needs so you can keep having fun in the summer.
Learn more about our residential storage offerings and find a storage facility near you to get started today! Contact Storage King USA for more information.
More From Storage King USA