Fun Fall Activities in Colorado Springs
There's an endless number of fall activities in Colorado Springs to explore. This guide from Storage King USA offers a list of the best things to do.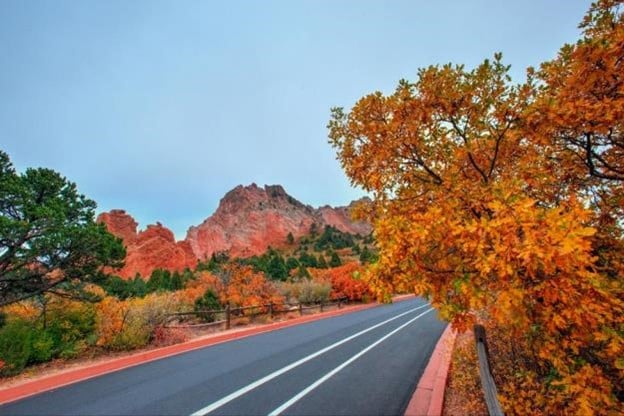 Autumn is a magical time in Colorado Springs. The city and its surroundings become a canvas painted with vibrant hues of red, orange, and gold, making it the perfect time to immerse yourself in the beauty of nature and participate in some fun fall activities.
With all the things to do in Colorado Springs in the fall, it can be hard to choose how to spend your time. Storage King USA has created this guide to help you explore the best Colorado Springs fall activities and get the most out of the autumn season.
Festivals and Fall Events in Colorado Springs
Whether you're looking for Colorado Springs fall family-friendly activities or ways to spend a weekend as an adult, we've got you covered. Here are a few suggestions:
The Rock Ledge Ranch Harvest Festival is a top choice for families and couples, offering old-fashioned wagon rides and music, delicious food, and pumpkin picking.
Boo at the Zoo offers a unique trick-or-treat experience at the Cheyenne Mountain Zoo.
The Pikes Peak Arts and Music Festival, which usually takes place in late September, offers live music and art to browse.
The Air Force Academy plays football and other sports just north of town, and Colorado College has a Division I hockey program where the games are thrilling.
During the fall, the city offers many different festivals and celebrations for Halloween and Dia de los Muertos.
Colorado Springs Pumpkin Patches
Heading out to one of the many Colorado Springs fall pumpkin patches is a great way to enjoy autumn. Venetucci Farm, Longneck Pumpkin Farm, and Miner's Pumpkin Patch are a few popular choices that offer a variety of pumpkins, gourds, and corn stalks. Many farms also offer hayrides, corn mazes, and petting zoos, making it easy for the whole family to have fun.
Places To Hike, Bike, and More
Colorado Springs offers its residents breathtaking views and beautiful trails, especially during the fall. The Garden of the Gods Park features plenty of trails for hiking and biking, along with world-renowned views. The red rock formations contrasted against the fall foliage provide a stunning backdrop for your adventures.
One of the top outdoor destinations in Colorado Springs is Pike's Peak, which is just west of the city. This summit and the surrounding area is a hiker's paradise, offering a variety of trails that cater to different skill levels and scenic interests. Some popular trails include the Manitou Incline, which has a high rating for its challenging climb, and the Barr Trail, known for its stunning views. For those seeking solitude amidst nature, the St. Mary's Falls trail takes you deep into a canyon filled with spruce, aspens, and pines alongside Buffalo Canyon Creek.
Best Museums in Colorado Springs
Colorado Springs is home to many museums that appeal to a variety of interests. The Colorado Springs Pioneers Museum offers insights into the region's history, while the Fine Arts Center features art from around the world. For a family-friendly option, the Cheyenne Mountain Zoo and the interactive exhibits at the Discovery Center are sure to keep kids entertained.
Rent Affordable Self Storage Units in Colorado Springs
With so many fun fall activities in Colorado Springs to explore, you might find yourself with an excess of seasonal items, anything from Halloween costumes to Thanksgiving harvest decorations. Finding space to store these things can be difficult, which is where Storage King USA comes in. We offer self storage units in Colorado Springs in a number of convenient sizes that are perfect for boxes and tubs of seasonal items.
Find self storage in Colorado Springs at these Storage King USA locations:
Looking to learn more? Explore our FAQ and storage tips page for additional information. Our unit size guide can also help you figure out how much space you need.
More From Storage King USA