A Guide to Downsizing Your Home and Upgrading Your Life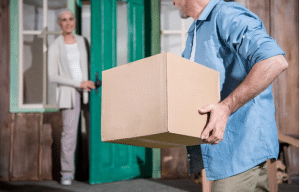 Anyone in Tallahassee, FL can benefit from downsizing their homes. Even doing something as simple as reducing clutter can free up space and make it easier to organize the things in your life. Whether you're a military member having to relocate or a retiree looking to downsize, Storage King is here with a few tips to get you started.
Downsizing: A Beginner's Guide
Pick a new location.
There comes a time when you don't need such a large home. Maybe you're a retiree who doesn't need all that space, or perhaps your mortgage, insurance, and taxes leave no money for anything else. Sometimes the cost of living in the city makes it financially difficult to enjoy other aspects of your life. When picking a new location, consider the costs of living and housing options. A smaller home will not only cost less but also make it easier to keep everything clean and organized.
Select the right space.
If you're a military member, you might not have a say in where you're relocated, and your new home might not have enough space for all your stuff. If that's the case, self storage is your friend. Storage King offers a discount for military members and provides a way to store your belongings, whether you're living in Tallahassee or being deployed elsewhere for a while.
Reduce the clutter.
Maybe you'd rather stay where you are but can't think clearly with so much clutter in the way. Storage units provide the perfect solution for those times when your attic, garage, and closets have reached their maximum capacity. If you can't bring yourself to sell or to donate your things, keep them sheltered in a storage unit until you know exactly what to do with them.
Self Storage for Downsizing Your Home
No matter where you move or what you have, Storage King makes it easy to store the extra things in your life with our convenient storage units. Downsizing doesn't necessarily mean getting rid of anything; sometimes, it's simply about getting them out of the way. With self storage, you can keep those belongings elsewhere while freeing up space at home. Our storage facilities in Tallahassee, FL provides packing supplies, moving trucks, and more to help make downsizing your home a smooth experience.
More From Storage King USA