7 Tips and Tricks for Small Business Storage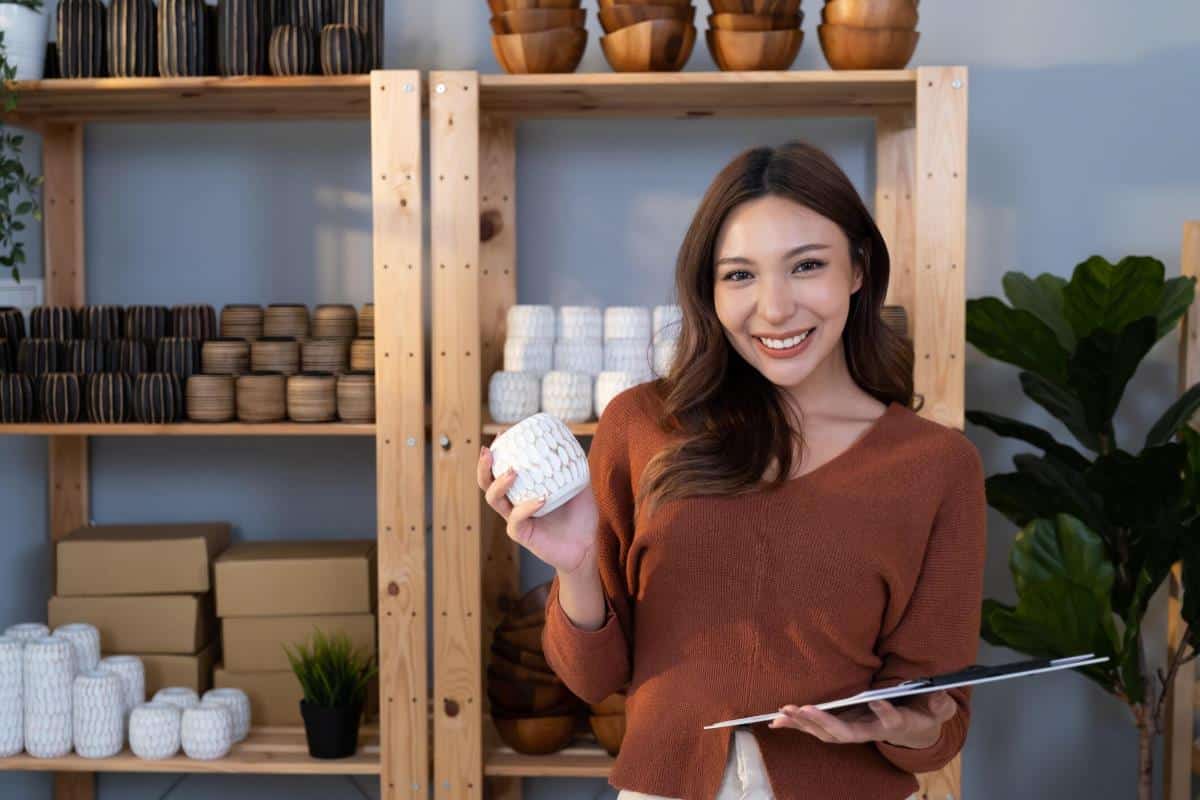 As the owner of a small business, you have a lot on your plate already, with managing inventory, running a website, and creating products. When your business grows, inventory can start taking over your home or apartment.
Small business storage comes in many shapes and sizes and can help you keep your work life and home life separate. Instead of shoving your products into closets or the garage, a storage unit can help you keep your products organized, secure, and out of your living room!
Tips for Successful Small Business Storage
1. Carefully Pack Products
The first step to moving inventory into a self storage unit is to pack it up properly, as the last thing you want to do is damage sellable items. To avoid breaking or damaging your goods, careful packing is essential.
Use bubble wrap or plastic wrap before packing fragile items such as pottery, glass, artwork, jewelry, and antiques. Invest in air bubbles or packing peanuts to give fragile items extra padding in moving boxes or totes, and use the right size of box for the item you're storing. A common mistake is storing small items in too large of a box.
2. Create a Labeling System and Stick to It!
A well-organized storage unit is the key to best utilizing small business storage. With a good labeling system, you'll be able to pop in, grab the products you need for your customers, and leave.
To most efficiently label your products for storage, you may consider investing in a label maker, which can help speed up the process. We also recommend organizing boxes by product type, color, and size to most easily find inventory when you need it!
Proper labeling is especially important for artisans who may create several different types of products in a variety of colors for their customers!
3. Keep Inventory of All Products Stored
When you use small business inventory, it can be difficult to remember exactly which products you've stored and how many. To avoid confusion, keep a well-organized inventory document, either on paper or by using one of the many inventory programs out there.
If you've ever heard of the 80/20 principle, the idea that 80% of a business's revenue comes from only 20% of its product, you'll know how important it is to make your best-selling products easy to access. Accomplish this with a foolproof inventory document that you update each time you put products in storage or take them out of storage.
4. Invest in Industrial Shelving
Whether you keep products in a small business storage unit or elsewhere, high-quality shelving for your products can really make a difference. By keeping your products on shelves while in a self storage unit, products are easier to manage and stay off the ground, where it's easier to break or damage accidentally.
The industry standard when it comes to keeping products organized is the industrial storage rack, which can hold a lot of heavy products without buckling under immense weight. Many entrepreneurs couple industrial racks with storage bins to prevent products from tipping over while in storage. This can be especially helpful when you're selling heavy, fragile products or artisanal goods.
With a winning combination of proper packing, labeling, and shelving, your products will be easy to locate when you need them and less likely to be damaged.
5. Try the FIFO Approach for Moving Inventory
Organizing the products you have on hand is just one small part of managing your business's inventory. It is equally important to understand how to move inventory, such as how to sell products.
Many small business experts recommend adopting the FIFO strategy, or, "First In, First Out." In the realm of small business, this means prioritizing selling your oldest products in inventory first, to avoid shrinkage.
Your detailed inventory system can help you keep track of which products were most recently created or acquired so you can prioritize sales for all of your products.
6. Consider Climate-Controlled Small Business Storage
Often, e-commerce and small business products are fragile and susceptible to temperature-related damages and permanently damaged or broken products can hurt your bottom line. Some specific products that can be adversely affected by extreme heat or cold include:
Antique or vintage items like furniture or clothing
Artwork like paintings and sculptures
Cosmetics, skincare, and body care products
Electronic goods
Resin art
Vitamins, supplements, and pharmaceuticals
This is why stowing your excess inventory in your garage or yard shed isn't always the best idea. At the same time, keeping products in your air-conditioned home comes with the downside of products taking up too much space. The perfect solution for stowing delicate items is climate-controlled storage, which keeps your products out of your house while still keeping them cool (or warm).
7. Keep Your Inventory Secure in Storage
One of the first things on entrepreneurs' minds when choosing a small business storage unit is product security. After all, your products are the lifeblood of your business, so you'll want to ensure they're safe.
To ensure the security of your inventory, be sure to choose a trustworthy storage company like Storage King USA. We utilize video surveillance and controlled, gated access so business owners don't have to worry when they store with us.
Rent Small Business Storage From Storage King USA
A successful small business or e-commerce store doesn't have to come at the price of a disorganized home. Let Storage King USA help you stow small business inventory with our secure, affordable self storage options. With a wide range of storage unit size options and month-to-month leases, your small business storage can grow with your business. Our climate-controlled storage will keep your most precious products safe from extreme heat or cold.
To find small business storage near you, check out our many locations nationwide. We make renting storage online easy but you can still call our friendly storage experts if you need more assistance!
More From Storage King USA