Student Storage from Storage King USA
One of life's biggest moments is heading off to college. The only issue with this milestone? Dorm rooms, fraternities, sororities, and college apartments may not always have the space you need. If you're a student who has more belongings than space to put them in, find the additional room you need in a self storage unit from Storage King USA.

From our wide variety of unit sizes to our affordable rent and student discount*, we've got your storage needs covered. Learn more about our student self storage solutions below, or find a Storage King USA facility near you today!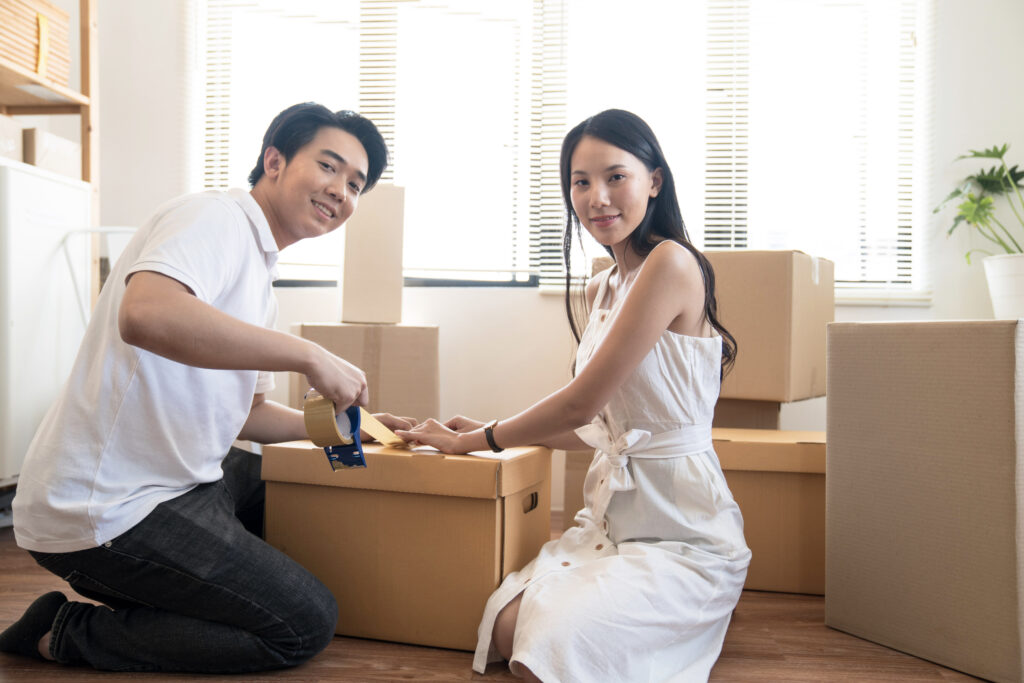 Why Self Storage is Perfect for Students
Different lifestyles and sleep schedules alone can make sharing space with college roommates feel overwhelming. Thankfully, self storage can help alleviate some of your stress by providing a secure place for you to keep your belongings.

Rather than donate, sell, or throw away things you still need or want, you can put them in a storage unit. Visit a facility near you today!
How Students Can Use Self Storage
There are plenty of ways college students can use self storage to make their lives easier. Whether you need additional closet space with a 5×5 unit or a 10×15 unit to keep all of your college furniture until the next semester, you can find the space you need at Storage King USA.
Even parents can benefit from self storage—if you're converting your student's childhood bedroom into a home office or gym, you can keep their toys, decorations, and furniture in storage until they come home for summer break.
Enjoy Student Discounts from Storage King USA
At Storage King USA, we understand how important budgets are to college students. That's why we're proud to offer our student discount in the summer to ensure our units are as affordable as possible for young academics. And with our convenient month-by-month rental agreements, you'll never have to pay for your storage unit longer than you need.
No matter if you need more room in your closet or a space to keep all of your college belongings, Storage King USA is here to help. Our self storage facilities offer a wide range of convenient features and security measures for your peace of mind, including:
Climate controlled units
Units with drive-up access
Video surveillance
Gated facility access
And more
Features and security measures may vary by facility, so be sure to talk to your local Storage King USA team to learn more!
Rent Affordable Student Storage with Storage King
For quality, affordable student storage you can rely on, head to a Storage King USA facility near you. When you have more belongings than places to keep them while you're at school or visiting home, you can find the student storage you need at Storage King USA. Calculate how much space you need, or visit a Storage King USA facility near you today!
*Student Discount available at select locations.
Benefits of Self Storage for Students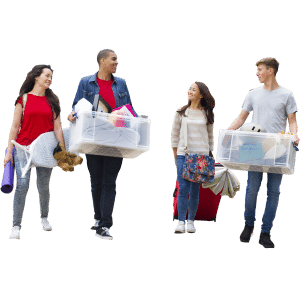 Do you need to move overseas for a semester or across the country to attend school? Do you need to clear out your dorm for the break and keep valuables safe? Student storage issues can be solved by renting storage space at Storage King USA. Providing students with clean, secure and affordable storage solutions is just one of Storage King USA's specialty areas. We are experienced in serving the needs of college students, recent graduates, and young professionals and have helped scores of young adults with short-term storage needs between semesters, over the summer, and between breaks by providing truck rental and student storage services.The life of a college student is certainly hectic and can seem like you're always moving since you're never really in one place too long.It's hard to keep moving your things between home and school, and from dorm to apartment. By finding a storage facility that is near your campus, you'll be able to store lots of your favorite belongings and keep them within reach, without cluttering up your limited living space.
Keep Items Safe
Keep your valuables safe and away from common areas! Only you will have a key to your personal storage unit. No one else has access. With Storage King USA's 24/7 surveillance and high tech entry system, your belongings are safe with us.
No Long Term Contracts
We understand the lifestyle of a college student, moving from dorm to apartment, transferring schools, long breaks, a semester spent overseas and realize long term contracts are not a reasonable option. That's why we offer month-to-month leases, which means no contracts and no commitment. Additionally unlike many other self storage facilities, we do not charge a security deposit.
Open 7 Days a Week
We know you're busy and understand the demanding schedule of students. Most Storage King USA facilities are open 7 days a week for your convenience.
Only Pay for the Space You Need
Storage King USA has a wide range of storage unit options. From 5×5 lockers to 10 x 25 foot units, we're sure to have a storage unit to fit your student storage needs. Check out our website, to see which size is right for you. Make sure to use our convenient storage facility calculator so you can be sure you're getting the perfect sized unit. We also offer locks,boxes,tape and other merchandise to make storing in our facilities a breeze.
Need Help?
Don't have a car? No worries, call us to inquire about our truck rental services. Storage King USA is an authorized dealer of Uhaul,Penske, and Budget moving trucks. Has moving day arrived and all your friends who promised to help have mysteriously disappeared?Don't fret most Storage King USA facilities have easy drive up access, and our interior storage come with oversize elevators that make storing bulky items stress and hassle free. We're here to help! Visit us today at storageking.live-pinnacle.com and pick out your unit. But hurry space is limited! – Learn more at: https://www.storagekingusa.com/military-storage-student-storage/
Storage King USA – Corpus Christi – 3205 Rodd Field
Self Storage Units in Corpus Christi – South Rodd Field Road 
Located on Rodd Field Road between Saratoga Boulevard and Yorktown Boulevard, Storage King USA provides the best self storage in Corpus Christi, TX. Whether you're clearing out your garage, looking for a place to store your belongings on summer break, or expanding your business inventory warehouse space, you can turn to us.
With a large variety of storage units types and sizes, Storage King USA is here for all your unique storage needs. And thanks to our month-to-month rents, we don't lock you into a long-term contracts, either. Be sure to make use of our online size guide to help you pick the right unit for  you, or simply contact our friendly staff for more information.
Features at Our Corpus Christi, TX, Facility
We know that moving into a new home or transporting items into storage can be a tricky or draining experience. Serving the South Side of Corpus Christi, you can find our storage facility just north of the Circle K on Airline Road, and we're committed to making storing with us as easy as possible.
Online Account Management
Month-to-Month Storage Leases
Recorded Video Surveillance
Climate Controlled Storage
Insurance Benefit Program
Covered RV Parking
Drive-Up Storage
Packing and Moving Supplies for Sale
Customer Kiosks Available
Fully-Fenced Facility
24-Hour Video Recording
Corpus Christi Storage Units for Rent on Rodd Field Road
Interested in storing for just a few months? Looking for a long-term solution? At Storage King USA, we're proud to provide storage to a broad array of customers at varying stages in their life. From college students through retirees, Corpus Christi residents and business owners enjoy our affordable, secure storage units. Renting is easy: just give us a call or to rent your storage unit today!
Frequently Asked Questions (FAQ)
Do You Have Humidity Controlled Storage in Corpus Christi, TX?
Yes! Many climate controlled facilities are simply heated and cooled to keep the temperature at a consistent range. Our climate controlled storage units go another step, as our entire facility is dehumidified.
Do You Have Office Space for Rent in Corpus Christi, TX?
In addition to our storage units, we provide multiple ways for you to rent Corpus Christi office space. We have co-working spaces, virtual offices, and conference rooms available for your convenience.
What Kinds of RV Parking Options Do You Have in Corpus Christi, TX?
We have multiple types of RV storage options at our Corpus Christi storage facility. Choose between outdoor, covered RV storage spaces and indoor vehicle storage via our large drive-up storage units.
What Do I Need to Rent a Storage Unit in Corpus Christi, TX?
You can get a storage unit within minutes. First, you'll need to pay a $25 admin fee. Then, you'll need your ID and insurance—but we offer insurance in case you need it. If you're storing a vehicle, we'll also need proof of ownership and proof of vehicle insurance.
Storage King USA – Phoenix – 10411 N 19th Ave
Self Storage Units in Phoenix, AZ – N 19th and Peoria
Looking for some additional storage space in Phoenix, AZ? Look no further than Storage King USA in North Mountain Village. Located near the corner of N 19th Avenue and Peoria Avenue, our clean north Phoenix storage facility has the prices you need and the customer service you deserve. And with easy access to Interstate 17, our storage facility also serves the nearby areas of Lake Biltmore Village, Alhambra, and beyond.
Our north Phoenix storage facility is an ideal space for both residential storage and business storage alike. We provide a full range of drive-up storage, from small units to extra large units and everything in between. Are you a student at Arizona State University needing to store some belongings over the summer? We can help with that, too, thanks to our convenient month-to-month rents and affordable prices.
Features at Our Phoenix, AZ, Facility
Storage King USA is committed to providing the residents and business owners in Phoenix the best storage possible. That's why you can find more than storage at our facilities. Need moving and packing supplies? We sell them onsite. Can't decide on one of our units? Our online size guide is here to help. Plus, we have other features and amenities, including:
Online Account Management
Month-to-Month Storage Leases
Video Recorded Security System
Climate Controlled Storage
Drive-Up Storage Units
Tenant Insurance Available
Keypad Controlled Access
Credit Cards Accepted
RV and Trailer Parking
Moving and Packing Supplies Sold
Storage Units for Rent in North Mountain Village, Phoenix
From unexpected life events to planned renovations and beyond, Storage King USA is here for all your storage needs big and small. Our variety of Phoenix storage units make it easy for you to rent the perfect unit for your unique needs. Ready to get started? Find our storage unit just east of Rose Mofford Sports Complex today, give us a call, or rent your storage unit online today!
Frequently Asked Questions (FAQ)
Do You Have RV Parking in Phoenix, AZ?
Yes! We have outdoor boat and RV parking spaces available for rent at our storage facility on N 19th Avenue.
Are There Climate Controlled Storage at Your Facility in Phoenix, AZ?
Yes, our north Phoenix storage facility does have climate controlled storage units for rent. These storage units are air conditioned and kept at a consistent temperature year-round to protect against temperature-sensitive items.
Do You Have Drive-Up Storage Units in Phoenix, AZ?
Our north Phoenix storage facility has a wide range of drive-up storage units for your convenience. Load and unload directly from your vehicle.
What Do I Need to Rent a Storage Unit in Phoenix, AZ?
To rent a storage unit in Phoenix, AZ, you'll need a valid ID, and proof of insurance, and a one-time payment of a $25 admin fee. For any vehicle stored at our facility, we'll also need proof of insurance as well as proof of ownership. The minimum rental length is one month, and rent is due monthly.